FLAT METAL REPAIR HEDDLE:
The ends are made in such a way that they can be added anywhere, anytime.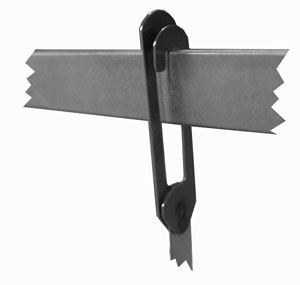 9.5" (240 mm) 6294-2000
10.5" (268 mm) 6294-6000
12.5" (317 mm) 6294-7000

====================================
WARPING BEAM ADVANCE
CONTROL SYSTEM


Recently, we at Leclerc have received feedback from weavers referring to excessive warp yarn advance when releasing the Brake at cloth take-up.
To control the rotation (advance) of the warp beam, Leclerc developed a simple add-on feature to insure the warp beam will advance at the same speed as the cloth beam when advancing the fabric with the cloth take-up handle.
This friction system is completely adjustable and can be released when winding the warp on.

Just screw the handle in to increase the friction or unscrew it to release.This system is now a standard feature on all our Nilus, Nilus II, Colonial, and Weavebird loom models.

Leclerc has developed a retrofit kit that is available for existing looms.
Contact Leclerc for more information and pricing.