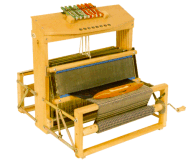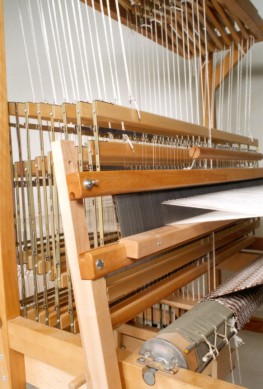 All Leclerc looms and accessories are guaranted for one year, covering material and workmanship, and parts are replaced free of charge upon proof of defect.

All Leclerc looms are made of selected, well-seasoned, kiln dried Canadian maple, except for the harness frames and a few parts that require a lighter wood.

The metal pieces are of aluminium dye cast, cast iron and steel protected by metal enamel or plating.

Looms are pre-packed with their equipment.

All loom are shipped partially knocked down for easier handling. But assembly is simple and instruction are included.

On all Leclerc looms, the tie-up system is very simple. Nylon cords insure years of service.

All floor looms have non-sliding polyvinyl pads under the uprights.

A plain warp beam is supplied with each loom. However, a set of rake-like pieces can be added to the pre-drilled warp beam to convert it into a sectional warp beam for direct beaming. (see sectional warp beam system)

The looms always have two treadles more than the number of harness frames.

A weaving book, giving basic techniques and important information is supplied with each loom.

When you choose a Leclerc loom, you buy from a compagny that: » guarantees its products
» gives prompt delivery
» offers replacement parts
» sell you a loom that has excellent resale value

Your Leclerc dealer can help you in choosing your equipment and will insure you an after sale service.