DISH TOWEL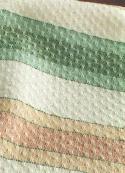 Click picture to see it better.
Pattern type
Huckaback
Finished Dimentions
19½" x 31"
Warp Yarn
Cotton 16/2 (6720 yd lb)bleach and colors
Ends per Inch (E.P.I.)
Reed 15 dents, 2 threads per dents = 30 threads
Width in Reed
23" (692 threads)
Weft
Cotton 16/2 (6720 yd lb) bleach
P.P.I.
30
Finishing
Machine stitch the ends. Turn under ½" twice and machine stitch in place.
Woven by
Lucille Hamel
Victoriaville Qc.
---
For any problems, please contact François Brassard
E-Mail
leclerc@leclerclooms.com

---