It has been brought to my attention recently that in a few instances the top(Nylon Cord Guide) board has become loose.

The top nylon piece is glued to the Castle Top(wood board) and except for the few cases reported has been problem free on the hundreds of Voyageurs we have sold.

If you experience the problem of the Nylon Guide Board coming loose you may re-glue the Nylon Cord Guide in place with a few drops of Crazy glue, or if preferred the Guide can be secured with fasteners(screws)placed in the back side of the Castle Top. On all future Voyageurs Leclerc will do both.

Instruction for screwing the nylon piece.

Remove the Castle top board from the loom.(release the Shaft Cords from Levers and remove 4 screws)

Remove the Nylon Guide.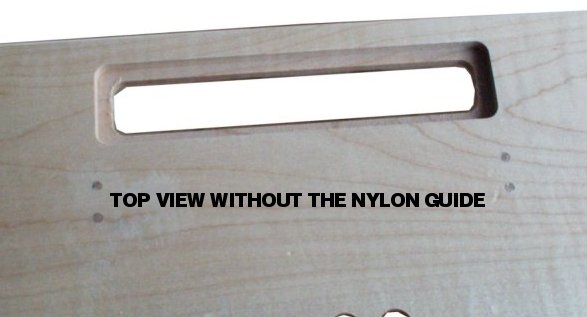 Drill from the bottom of the wood first (using a drill bit 3/16") then to the nylon part 1/2 way only so we do not see anything at the top using a
drill bit 1/8" Put the crazy glue in the groove and install the nylon piece.
Press for a few seconds Insert screws (#6 -- 1/2") from the bottom to the wood first then to the nylon using a battery or electric screwdriver and the square bit supply with the loom.

If you need the screwdriver bits and/or the screws please send a email.